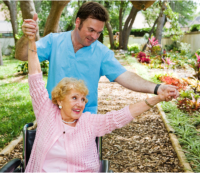 We diligently uphold our commitment to serve by making clients' personal choices matter; your opinions are heard and acted upon for your ultimate healing. Our goal is to assist clients and residents improve their quality of life. Having a good standard of living and quality of life is what we hunt for our clients to enhance.
American Best Home Care is your best choice:
We are a licensed and state-approved agency that provides home healthcare services.

American Best Home Care

ensures that every client is a priority. You will be our navigating counselor, your choices will be heard and considered.
We operate with great respect to your privacy, we believe that it is essential to your in-home comfort.

American Best Home Care

provides services that are directed to your healing needs. All goals will be specifically directed by you and implemented for you and your loved ones.
We aim for a positive patient-caregiver relationship; you will always have access and/or be a part of choosing the caregiver of your choice.
Our comprehensive band of services allows for your maximum welfare and healthcare at home. We significantly aim to reduce the probability of re-hospitalizations and prevent early institutionalization.
While every client is unique, we have a non-discriminative policy that ensures every client is accepted regardless of age, race, color, creed, sexual orientation, or national origin
Get the best service by choosing American Best Home Care as your home health agency today!